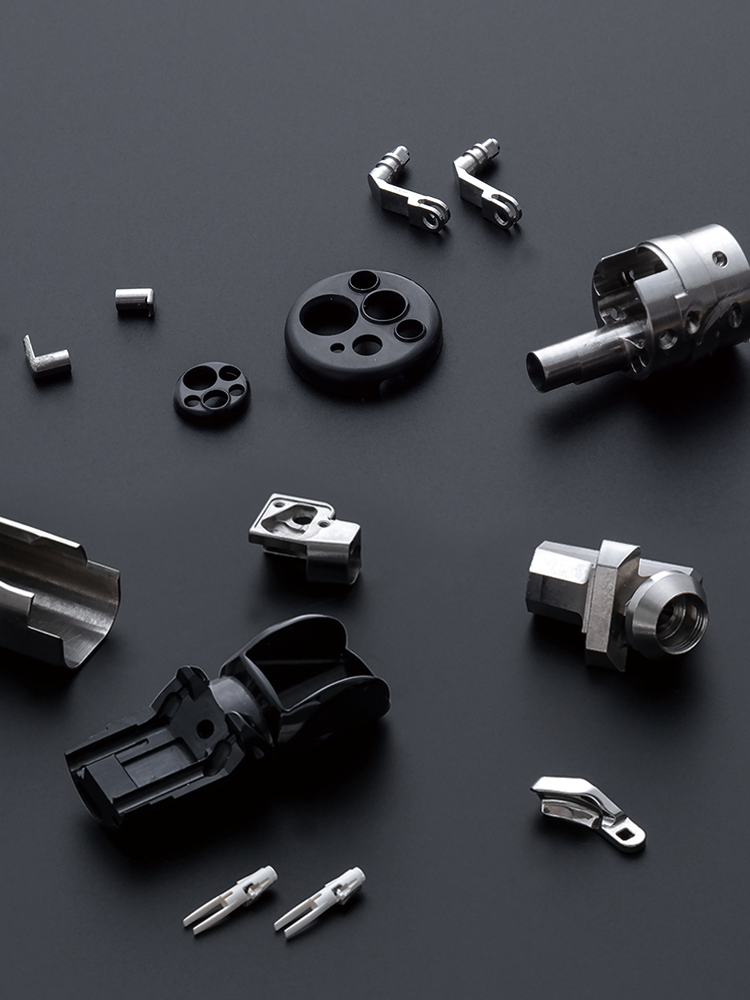 KANEKO'S HIGH-PRECISION MACHINING
KANEKO'S HIGH-PRECISION MACHINING
Kaneko's High-precision machining
We carry out a wide range of high-precision machining work from medical equipment, aviarion, optical equipment, and various research & development.
LONG TERM RECORD OF BUSINESS TRANSACTION
The company is located in the capital "Saitama city" where is adjacent prefecture of international city Tokyo. KANEKO has over 60 years experience in machining of metal, resin, ceramic and, assembly of high-precision components. With over 40 years experience in the endoscopic field and, 30 years experience in aviation field, KANEKO will always provide the best solution and result.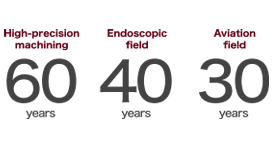 RESEARCH AND DEVLOPMENT PROJECT
We calculate the labor cost which is the dominant element of the development costs in separate from the product cost. Therefore, We can undertake high difficulty of projects involving research and development is not limited to the aircraft and rocket parts, while suppressing the product cost. If you are having any problems with your current situation, please feel free to contact us.
JAPANESE QUALITY = WORLD LEVEL QUALITY
KANEKO has certified for both the medical equipment quality of ISO 13485 and aerospace quality of JIS Q 9100 (Mutual authentication to US AS9100 and the European EN9100).
We offer a high precision machining and assembly technology based on our double certification of both fields.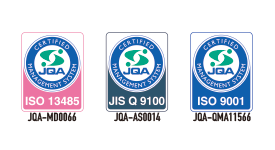 High-precision machining for medical components
Oblique machining for SUS multifaceted parts
Endoscope distal tip
SUS303│3x3x10mm
Oblique machining for plastics multifaceted parts
Endoscope distal tip
Super engineering plastics│φ10×30mm
SUS multifaceted, oblique machining
Endoscope distal tip
SUS303│φ13x20mm
Thin-walled
hollow plastic parts
Endoscope accessories
Super engineering plastics│Φ3x10mm
Small & Tiny
parts machining
Endoscope optical parts
Alminium/ Brass│1.4mm~5mm
Extremely thin
machining
Sample for thin wall parts
SUS303│φ13 x t0.05mm
Small & Tiny
parts machining
Endoscope equipment
Alminium, SUS, Brass│1.2mm~5mm
Finishing for medical equipment parts
Stainless Steel
micro-fabrication
Endoscope distal tip
SUS303│1x3x3mm
Oblique machining for SUS multifaceted parts
Endoscope distal tip
SUS303│10x10x15
Oblique machining for
plastic parts
Endoscope distal tip
Super engineering plastics│φ7×25mm
Oblique machining for
plastic parts
Endoscope distal tip
Super engineering plastics│φ5~12mm
Bonded assembly
Endoscope distal tip
SUS303 etc.│13x13x30mm
Press-fit assembly
Endoscope accessories
SUS303│20x40x35mm
Press-fit assembly
Endoscope accessories
SUS303 etc.│95x140x30mm
Brazed assembly
Endoscope operating section
SUS303│15x40x40mm
High-precision machining for aviation parts
Machining for multifaceted
aluminum parts
Aircraft nose parts
A6061│160x150x60mm
High-speed machining
for curved aluminum parts
Aircraft wing parts
A7075│1000×80×30mm
Machining for titanium
thin-walled parts
Prototype
Titanium│Φ150x35mm
Machining for
stainless steel parts
Aircraft parts
SUS630 | 220x230x30mm
Machining for
Special cast material
Aircraft parts
SUS304 | 150x350x150mm
Machining for aluminum
thin-walled parts
Artificial satellite parts
A7075 | 150x150x150mm
Machining for aluminum
thin-walled parts
Artificial satellite parts
A7075 | 200x300x150mm
High-precision machining for machinable ceramic parts
Machining for machinable ceramics
Optical equipment
Macor®│80x30x7mm
Machining for machinable ceramics
Optical equipment
Machinable ceramics
Multi-view glasses-free 3D endoscope system
Prototype of 3D endoscope
90x43x120mm